ETHRWorld keynote and masterclass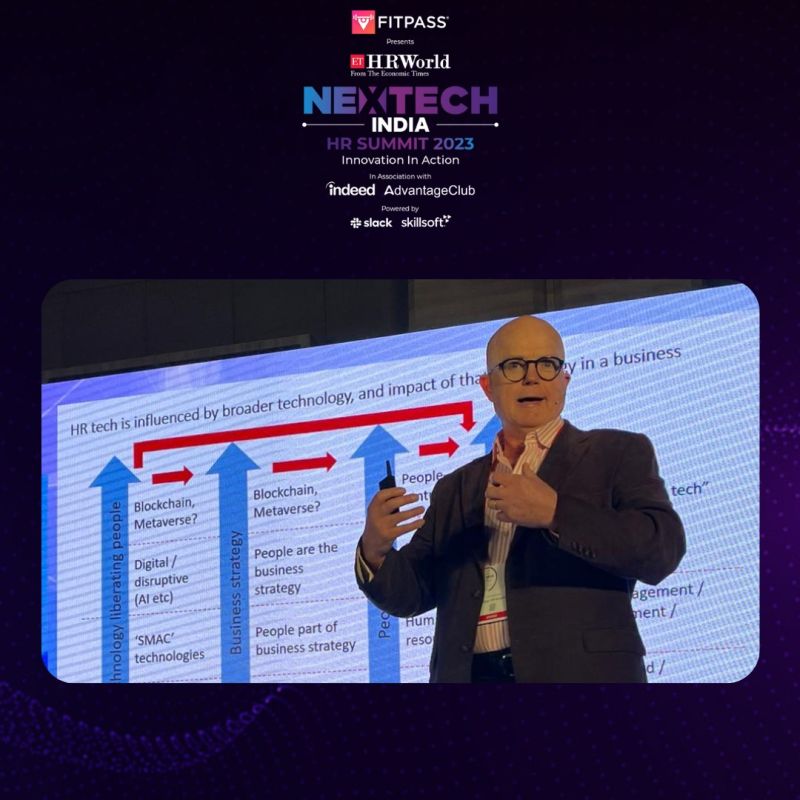 Employee Transformation tech
This post was previously published as part of my Linkedin newsletter on Multi-sided HR:
.
What HR technologies should we use to help employees transform?
I'm going a bit out of sequence in describing my thinking on multi-sided HR here, but I've just been presenting on HR technology for employee transformation at ETHR World's NexTech conference in India, and thought it would also make sense to share some of this content here, as part of my newsletter series.
If you've not been following this, and unless you were at the conference, it will definitely make sense to go back and read my earlier newsletter articles, especially the last one on Employee Transformation (ET).
We can then move on to the first of my insights at ETHRNexTech that should influence the technologies we select and develop to support this approach to creating value for employees (E-CV).
.
1. HR tech (generally) is influenced by broader technoloogy, but also the impact of this technology in a business
At the conference, in my early keynote, I noted that our use of HR next tech should be informed by broader technology trends, but also how these technologies inform business, organisations, leadership, people management and HR transformation.
.
2. This means that if employee transformation is the next evolution of HR, that our next techs should be those that enable employees' most transformational experiences
Identifying technologies to enable employee transformation was the focus of my masterclass this afternoon.
Let's go back to developing the employee exerience in order to provide value for money for them – for example by developing more compelling journeys, especially around the key moments for matter.
These moments are usually business related, but do include key personal ones, eg becoming a parent, too. However, as I explained in the last newsletter, receiving an 'experience', like a congratulations card from your manager or team isn't going to be as meaningful as something that perhaps helps you become a parent, or facilitates your childcare needs, etc.
(The above journey is taken from Tom Haak's 'trends in employee journey maps' article.)
Creating value in employee journeys comes from focusing on experiences that help people achieve their outcomes, not just a nice experience, for example by helping clarify or meet their own personal goals:
Next technologies should facilitate the sorts of moments identified above, for example, the sorts of systems shown below:
.
I'd been asked for specific examples of employe value during my session (which I provided) and tried to pre-empt being asked about specific technologies that might be useful by suggesting three that seemed to fit the needs I've shown:
.
1. Remember Rypple? This was a cool performance management app that appeared at the start of our focus on PM re-engineering a decade or so ago. It got bought by Salesforce, became work.com, and, as often happens in tech aqusitions, had all the coolness stripped out. But the original idea was very funky as it was about enabling individuals to own their own performance portfolio – getting feedback on what they wanted this from on what they wanted it on when they wanted it, and to manage this themselves, taking it from job to job and employer to employer. I think Rypple appeared to early but it's absolutely the sort of next tech that's required today.
.
2. Receiving support rather than just feeback is often limited because people are reluctant to ask for help until the culture changes far enough to make this just something that happens. In the meantime, it may be better to encourage people to offer help which people find easier to do. This is what Wayne Baker and Adam Grant's Givitas provides.
.
3. I was struggling to think of other examples on the spot, so my third example was a bit more general, but I suggested that whilst that recognition systems are very helpful, they tend to focus on recognising work achievements rather than personal ones, which are more meaningful to people, meaning that recognition against these are more personal as well. Next tech thinking therefore suggests that we need different recognition systems for employee transformation, or a cultural change meaning that recognition starts to incorporate this more often too.
.
Employee transformation isn't just about using next techologies, but just as with other areas of HR, it's going to help quite significantly.
.
Jon Ingham
Director, Strategic HR Academy