Workplace and Organisation Design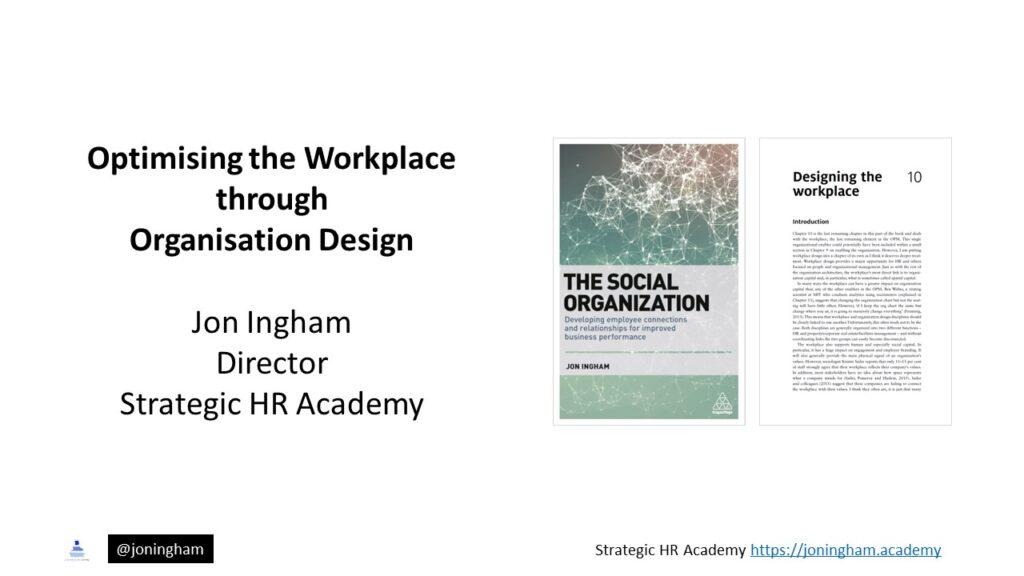 I'd like to thank Mark Catchlove at MillerKnoll for the opportunity to participate in their Workplace Insights series in a webinar on Optimising the Workplace through Organisation Design.
I described and built on some of the content provided in 'The Social Organization', updated slightly to take account of the pandemic and other developments since 2017 (although I think most of what I wrote then still applies very well today).
The series is focused on property / real estate, facilities and workplace practitioners so my main suggestion is that you / they need to support your / their HR and OD colleagues in creating an effective organisation, including the workplace.
However, many workplaces have changed significantly over the last few years as a result of remote and hybrid working, as well as ongoing evolution, and in many cases, design of the broader organisation may be lagging that of the workplace.
Where this is the case, or even more generally, I'd like to encourage webinar details to pass the following invitation onto your HR and OD colleagues, and encourage them to attend the Strategic HR Academy's forthcoming training on Organisation Design.
.
Invitation to HR and OD practitioners to improve your strategic Organisation Design skills
Attend the Strategic HR Academy's next Organisation Design programme, running from 9 October to 1 December 2023.
The programme is built on the Academy's online OD course consisting of over 10 hours of video based and other content.
However, the integrated programme allows you to study the course content in a small cohort with other HR and OD practitioners, participating on ongoing online discussion, supported by four or more live video calls arranged during the eight weeks of the programme.
The cost of the programme is £298 GBP but you can save 20% of this by using the discount code WorkplaceWebinar at checkout.
If you'd like to participate, you can book for the course here. That will then enable you to sign up for the cohort based study group at no extra charge.
Any questions, please let me know.
.
Jon Ingham
Director, Strategic HR Academy