Reward Transformation programme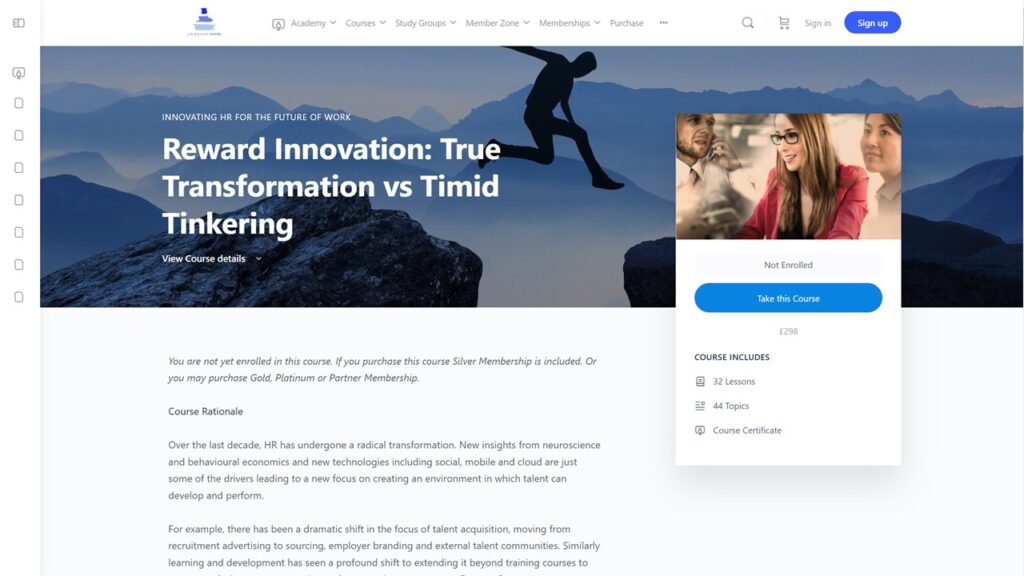 The Academy's Reward Transformation course provides about 10 hours of video based content providing all my insights on how organisations can transform reward (as well as why they need to, etc) plus a review and explanation of case studies and emerging best practices. We also look at how organisations can create a best fit approach that supports their own business and workforce needs.
We also run study groups enabling a small group of HR practitioners to progress through the course together as a learning cohort. The study group enable people to ask questions of me and each other, and to discuss the content of the course, their own experiences and the needs of their organisation. We'll have a couple of activities to undertake as well. Most of this is done asynchronously – you can watch the videos in your own time, and contribute to the chat in the study group when it makes sense for you to do so too. We just have four online calls during the programme where we try to get everyone together at the same time. When we don't manage to do this, we record the conversations and make these available for others to catch up. There is no further charge for the study group.
There is more detail in the programme brochure and the course outline – book for the course and then, if you wish, you can register for the next study group too.
Alternatively, you can pre-register for details and dates of the next Reward study group as we schedule this (in response to demand), and book for the course once you know you can attend the study group. (The study group isn't a requirement – the course stands well on its one and members do often decide to take this without the social learning of a study group. I'm still very happy to have individual calls with you to discuss the course content and its application within your own organisation. Other members have taken the course at the point of need, and have then participated in a study group later on to refresh their learning.)
I also share information on reward transformation on this Linkedin page and you can follow here too.
.
Jon Ingham
HR and OD Strategist, Trainer, Learning Facilitator at the Jon Ingham Strategic HR Academy