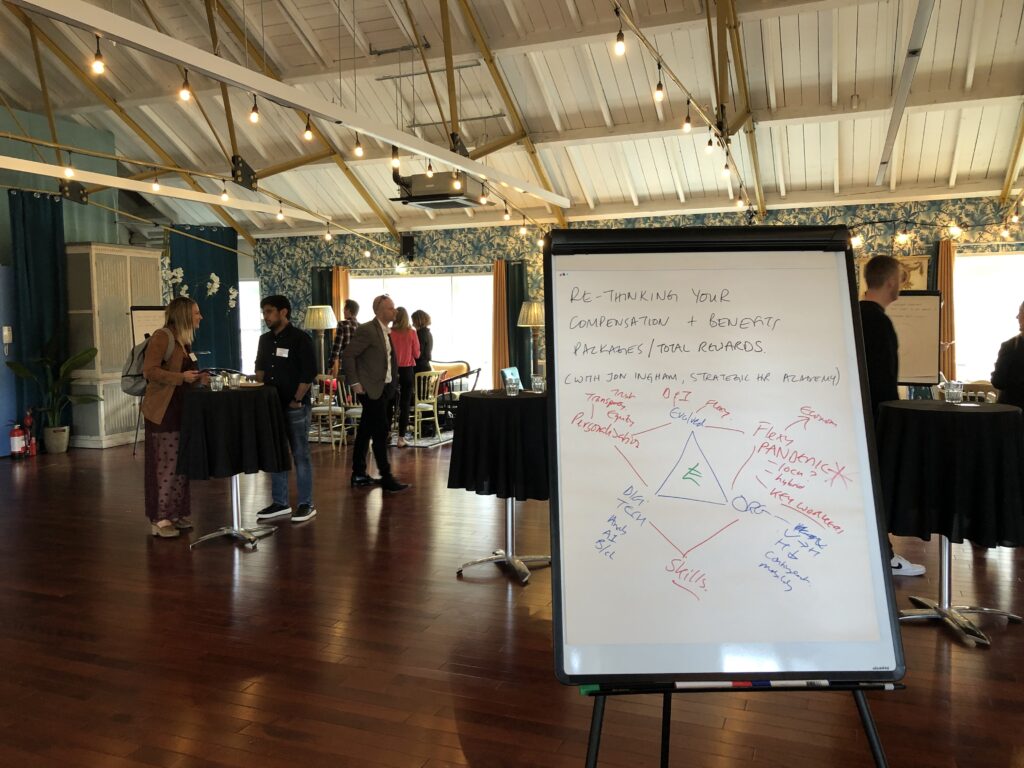 I've been suggesting reward needs a radical overhaul for about ten years now. Early digital technologies (SMAC – social media, mobile, analytics and cloud) led to major changes in recruitment, learning, employee communication and other areas, and eventually within performance management too. But this didn't take place within reward – or at least, not in much of reward. Yes, we saw a lot of new opportunities in social recognition, and an expansion of total rewards. But this still wasn't of anything like the same scale of changes that we've seen elsewhere.
This is despite some glaring problems such as grade based and individualised variable pay that stand out due to their ineffectiveness, particularly in today's VUCA/BANI, social capital based world.
However, the case for transforming reward has never been as strong as it is now. The header photo is from a roundtable I was facilitating at Personio H.U.G London yesterday (and speaking about organisation architecture too). The diagram is based around three central HR trends introduced by the conference chair (Trevor Merriden) which were changes in organisations; the need for evolved vs just engaged employee relationships; and digital technology.
I'm not much of a flipcharter(!) so I've redrawn the diagram here too: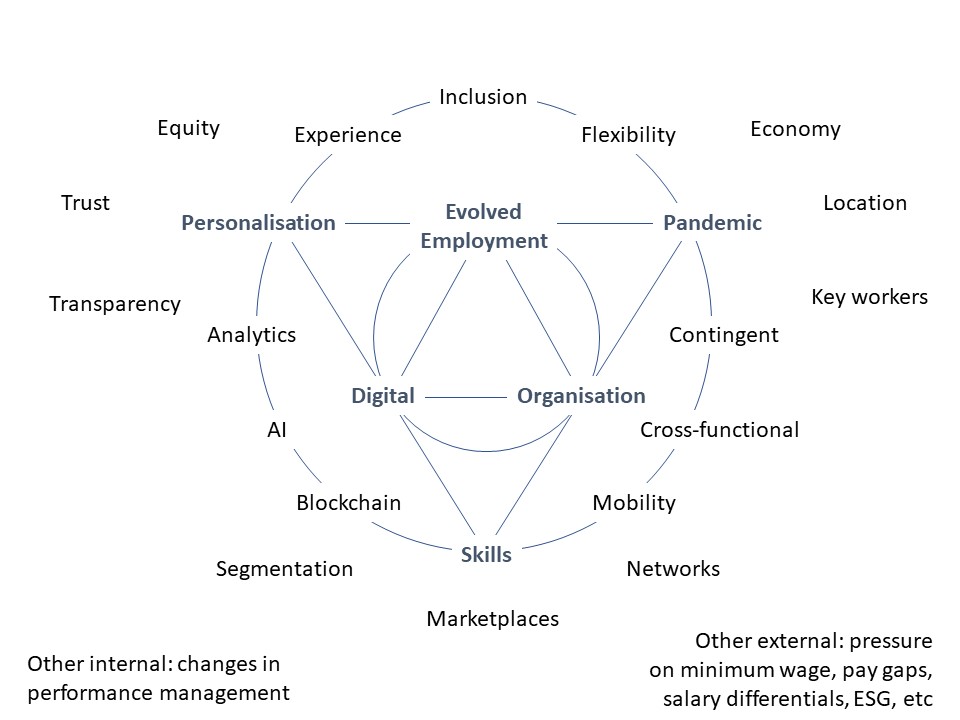 .
This shows the combination of the three central issues spilling out into other drivers for change, which I suggested are personalisation; skills; and flexibility – especially given the impacts of the pandemic.
In the roundtable, we talked about there being a growing range of options to reward people open to meet these various issues. These include unlimited leave, 4 day weeks, remote first, personal growth, mental health support, on-site childcare etc – all of which can have more value and provide a better way to attract and keep staff than trying to compete on compensation. That might not work for everyone (eg younger people trying to save up) so the key theme from the conference, which was about listening to people, is important here too – and then using this to segment or personalise to reward people in a way that will be relevant to them. One of the participants talked about using a balance sheet type approach to help people understand the value of these intangibles, and using total transparency to increase trust in them too.
There are lot of other drivers I've not shown above, and lots of other potential actions we didn't get in to. Which I think is one of the reasons we've seen only the small amounts of change we have, as there's just so much to consider.
Unless you've got a sound strategic and people-centric approach for doing this.
So, if you'd like to know more,
Participate in Teneo's HRcoreReward on 14 and 15 June 2022, where I'll be co-chair, and am looking forward to more conversation about what the speakers and their organisations are doing about reward transformation.
.
Jon Ingham
HR and OD Strategist, Trainer, Learning Facilitator at the Jon Ingham Strategic HR Academy